Robert Hay (1799-1863)


Illustrations of Cairo.
London: Moyes & Barclay for Tilt & Bogue, 1840. 2o (54.5 x 37.5cm). mit 30 Lithographien,
alle Lithographien sind vollrandig, teilweise mehrere helle Stockflecken, ansonsten in einwandfreiem Zustand,
der Buchdeckel ist am Rückenschild leicht berieben, vorne ca. 2cm gebrochen (nur von innen sichtbar) ein Werk gleicher Auflage wurde
bei Sothebys 2008 für 5625 £ + Aufgeld verkauft, also gut 8000 Euro
Preis bitte anfragen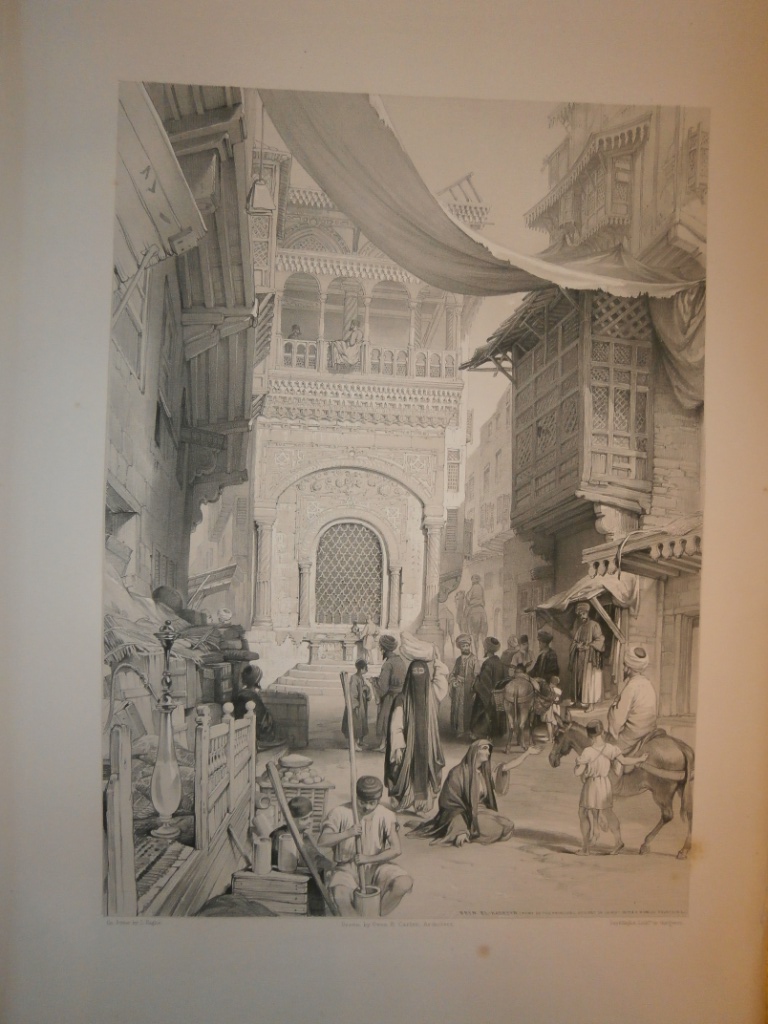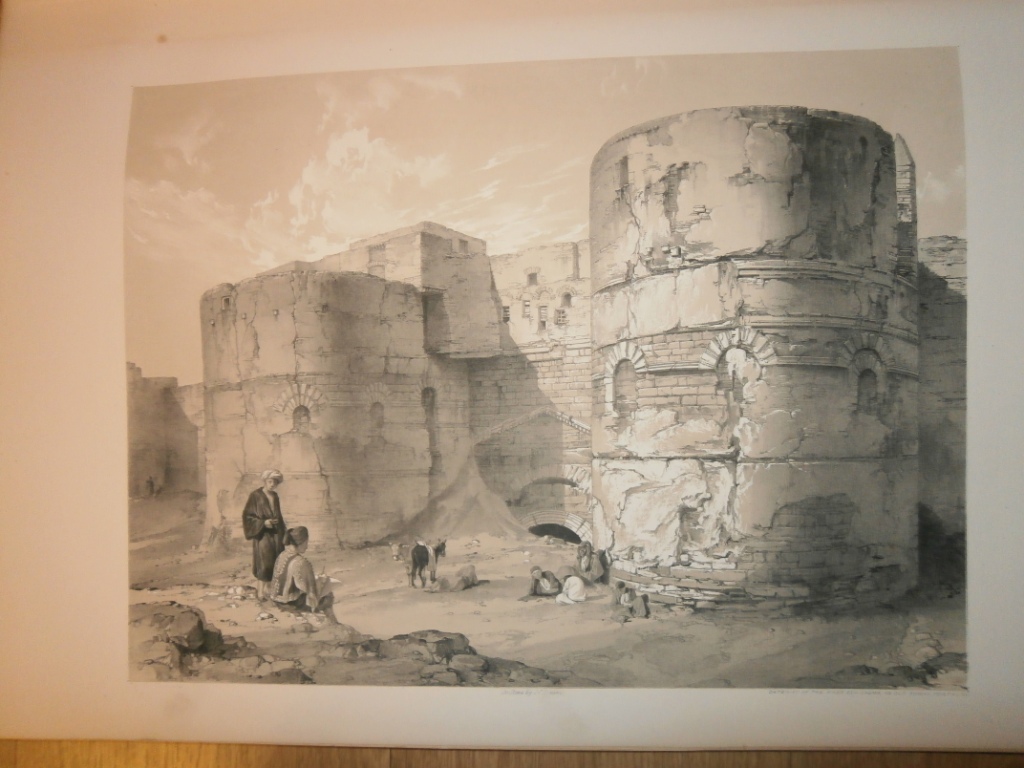 english:

Illustrations of Cairo.
London: Moyes & Barclay for Tilt & Bogue, 1840. 2o (54.5 x 37.5cm).
Letterpress title. Tinted lithographed additional title, lithographed dedication, 30 tinted lithographed views on 29 sheets by J.C. Bourne after Hay, O. B. Carter and C. Laver. (some plates with appreciable spotting.)
Publisher's blue roan-backed cloth, titled in gilt on upper cover (extremities a trifle scuffed). A FINE COPY of this work by one of the pioneers of Egyptology. Hay first visited Egypt in 1824, and returned as one of the leading members of an archaeological expedition between 1826 and 1838. Among his companions were the artists Arundale, Catherwood, J. Bonomi the younger, and E.W.Lane' (DNB).
He established a base camp on the Nile from which the first systematic exploration of the Nile Valley was carried out.
He presented a number of Egyptian Antiquities to the British Museum, which also now houses 49 large volumes of his archaelogical and other drawings, and some of the original drawings to the present work. Abbey Travel 270; Blackmer 794.
sold at Sothebys 2008 for 5625 £ + buyers premium
P.O.R.


french:

Illustrations of Cairo.
Drawn on stone by J. C. Bourne. Londres: Tilt and Bogue, 1840.
Grand in-folio (536 x 360 mm). Titre lithographié et teinté, dédicace lithographiée, et 29 planches lithographiées et teintées figurant 30 vues. (quelques rousseurs) Demi-maroquin aubergine de l'éditeur, titre doré au plat supérieur, dos lisse, (insolé, légèrement frotté).

ÉDITION ORIGINALE. Grand égyptologue, Hay visita l'Egypte pour la première fois en 1824 et y séjourna régulièrement pendant les 15 années qui suivirent. Son importante collection fut vendue en 1865 et divisée entre le British Museum à Londres et le Museum of Fine Arts à Boston. Abbey Travel, 270; Atabey 566.